本文轉載自原廠電子報: CUSABIO | www.cusabio.com | 電子報原文
The outbreak of SARS-CoV-2 has become a global pandemic and an unprecedented public health issue. There are several methods to detect the presence of SARS-CoV-2 in samples, including RT-qPCR, rapid test and ELISA. The ELISA technique is currently more intended for research of COVID-19. CUSABIO has developed 3 types of ELISA kits to help you in your research.
SARS-CoV-2 Antigen Detection ELISA Kit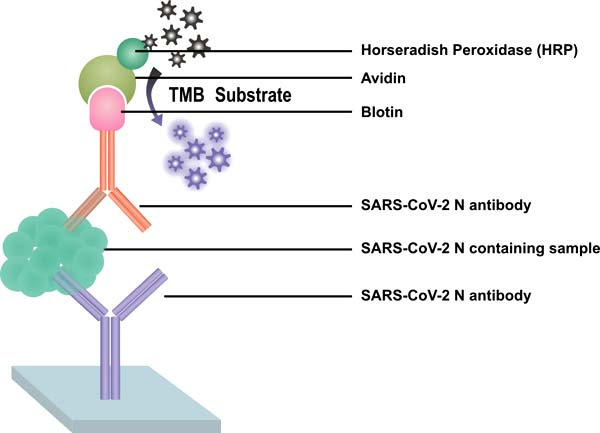 Figure 1. Diagram of sandwich ELISA
N protein encoded by the ORF9b gene is the most abundant protein in coronaviruses. This protein is a highly immunogenic phosphoprotein involved in viral genome replication and modulation of cell signalling pathways. S protein, a type I transmembrane protein, is present on SARS-CoV-2 surface in the form of a homotrimer. Each monomer consists of 2 subunits, S1 and S2. This protein plays an important role in the infection of SARS-CoV-2 as well as in the induction of neutralizing antibody. CUSABIO antigen detection ELISA kit aims to quantitatively determine the concentration of SARS-CoV-2 antigen protein in serum, plasma and swabs.
| | | | | | | | |
| --- | --- | --- | --- | --- | --- | --- | --- |
| Name | Code | Detected Antigen | Sample Types | Detection Range | Sensitivity | Assay Principle | Measurement |
| | CSB-EL33251 | N | serum, plasma, swabs | 3.12 ng/mL-200 ng/mL | 0.78ng/mL | Quantitative | Sandwich |
| | CSB-EL33244 | S1 RBD | serum, plasma, swabs | 1.25-80ng/mL | 0.31ng/mL | Quantitative | Sandwich |
* For research use only
SARS-CoV-2 Antibody Detection ELISA Kit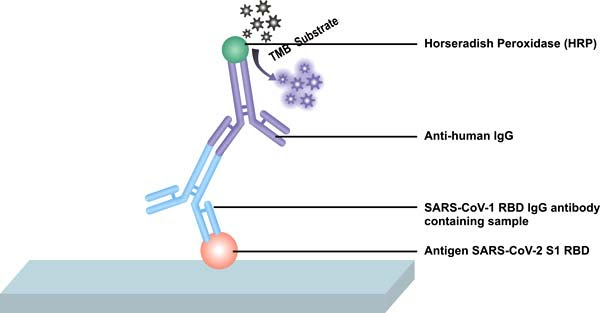 Figure 2. Diagram of Indirect ELISA
CUSABIO provides four antibody detection ELISA assays for SARS-CoV-2/ COVID19 Research. The antibodies involved in these assays include IgG and IgM. IgG is the most abundant antibody isotype (~70 75%) in the blood. Moreover, infected patients develop IgG against SARS-CoV-2 S1 RBD or N 7 days post-infection, and IgG content peaks in the third week. IgG is predominantly responsible for long term immunity after infection. IgM accounts for ~10% of antibodies in the blood and is produced first in response to acute infection.
* For research use only
SARS-CoV-2 Neutralizing Antibody ELISA Kit
Figure 3. Diagram of competitive ELISA
In addition to the above two types of SARS-CoV-2 assays, CUSABIO has also developed SARS-CoV-2 neutralizing antibody ELISA kit for the qualitative determination of SARS-CoV-2 neutralizing antibody in serum, plasma.
* For research use only